The Johnson
Family Homestead

HOME

---
Welcome to the Johnson family Home Page.

If you want to find out who we are, and who some of our friends
are, click on the "Family and Friends" link to the left.

If you want more information about the things we do, or our
businesses, or about the critters who live here, click on "Related Links"
to the left.

If you are looking for information about killing Prickly Pear cactus,
also follow "Related Links".

Feel free to download pictures and documents published on these pages.
---
Contact Us:
Mail to:
The Texas Idea Farm
5886 New Windsor Parkway
McGregor, TX 76657

Email: gwj5886@gmail.com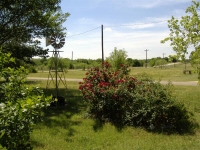 Our little country place
located deep in the
heart of Texas.